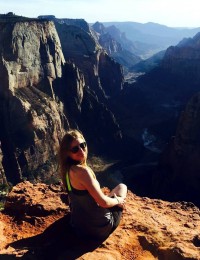 Education: Ontario Veterinary College - Guelph University
Dr. Marie Ashbourne grew up in Aurora, Ontario. From a young age, she was a "cat lady", having always been in the company of her family cats. Marie attended the University of Guelph, and obtained her Honours Bachelor of Science, majoring in Biological Sciences, before she went on to complete her Doctor of Veterinary Medicine Degree at the Ontario Veterinary College in April 2014. 

In her first year of practice, Dr. Ashbourne worked in a veterinary emergency clinic, tending to the urgent needs of pets. She is thrilled to have recently joined the Stouffville Veterinary Clinic team in April 2015, and is looking forward to exploring Stouffville. 

In her spare time, Marie likes to hike both at the cottage, as well as various National Parks of Canada and the United States. Marie is also a knitter, jogger, loves to kayak, and is excited to join curling in the coming winter season. She currently lives with two 1 year old Boston Terriers, Barley and Lucy.